Click Here to Read by Emmanuel Soba Google
---
---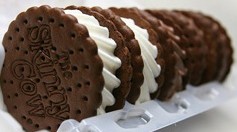 Over the weekend while out with a buddy we stopped in a local convenience store in an attempt to find a healthy snack (tall order, I know). While I made my way over to where the pistachios and other nuts were, he reached inside the frozen food case and pulled out a Skinny Cow vanilla ice cream sandwich made by Nestle®.
"Hey this is healthy", he said. "It's only got 140 calories, 1.5 grams of fat and 3 grams of fiber. It says it right here on the label."
However, upon further review of the back of the label (there was a convenient fold covering up all of the unflattering nutrition information) this small ice cream sandwich is STUFFED with chemicals I call obesity additives.
Here are the whopping 33 ingredients and my comments after some of them:
---
---
---